1. La Esquina at 114 Kenmare Street
When this bar opened in 2005, People Magazine touted this Mexican restaurant and bar as "harder to get into than Harvard." At present, years later, us regular folks have begun to frequent this from Dusk to Dawn, which is darkly romantic, secret basement below a taco stand. This place is where you can enjoy delicious Mexican food like Elotes Callejeros, which is grilled street corn, or Mole Enchiladas, while surrounded by iron candle chandeliers, skull-shaped bottles of tequila and beautiful people.
After trying to get through the tourist crowds of SoHo and wrangling yourself into and out of some endlessly tight pants and high heels, you deserve Prison Sex, which is a mix of vodka, kiwi, St. Germain, peach, egg white, and lime.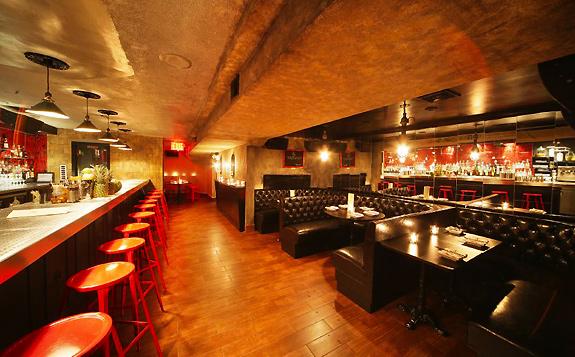 This is the first of all New York speakeasies, with a strict code of conduct. It is a rule that all men must be introduced formally to the lady they fancy by the bartender. If you behave yourself here, you will get to sample the world's best cocktails.
Ask for the famous Penicillin, which even Pippa Middleton tried. There is no menu, but you can discuss with who is serving you what you typically feel like and the preternaturally gifted bartender will whip you up a selection based on your preferences.
4. Little Branch at 20 7th Ave. S
This bar was opened by the same guys who brought you Milk and Honey. Little Branch is less formal and more crowded. The drinks are still pretty amazing though, even if you ordered them off the menu. If you order a Mojito, be prepared to say whether you want the Cuban or Trinidadian version.
5. Middle Branch at 154 E 33rd Street
Like Little Branch but more conveniently located for those whose poor sense and/or lack of cash led them to live in Midtown instead of the West Village.
6. Raine's Law Room at 48 W 17th Street or 24 E 39th Street
Make sure to ring the doorbell to get in at one of Raine's two locations which are near Union Square and Grand Central Station. Get your Downtown Abbey on by gathering the bar staff with the cord at your table. The first adjective which comes to locals mind is that this place is 'sexy' – maybe its mojo will rub off on you.
This was created as a bar for bar-staff. Luckily, the cocktails are still good enough to impress the professionals. The predictions made by the psychic out front probably aren't quite as reliable.
8. Apotheke at 9 Doyers Street
The sign here says 'Chemist.' The bartenders wear white coats, and the drinks are listed under prescriptions. With all the, the cocktails are probabli still bad for your liver, but without a doubt, they are good for your soul.
On Mondays, live jazz performances by Cole Ramstand take place, High and Mighty Brass Band on Tuesdays. On Wednesdays Broadway Brassy on Prohibition, which also features burlesque shows. Love footage plays on Sundays. To get in on Prohibition Wednesdays, you will need to contact them online so as to get the password.
9. Pulqueria at 11 Doyers Street
Why be predictable and get Chinese food in Chinatown when you can go for Mexican? Bar to the left, restaurant to the right — once you have the guts to head through the two unmarked entry doors.
10. Attaboy at 134 Eldridge Street
Housed in Milk and Honey's old digs on the Lower East Side, Attaboy's got some tall glasses to fill in order to live up to their predecessor. Reviews are good, so far. Same intimate space, but brighter and less formal than Milk and Honey was. They keep the no-menu tradition going, and you can still order the old-school favourite Penicillin.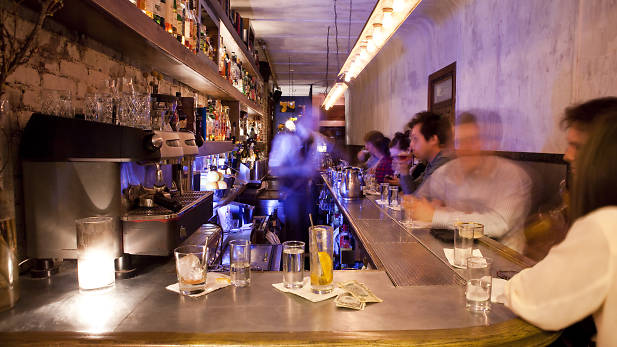 11. PDT at 113 St Marks Place
PDT stands for Please Don't Tell, but with a James Bond-worthy entrance and bacon-infused bourbon, people have to say something for sure.
12. The Campbell Apartment at Grand Central Terminal, 15 Vanderbilt Ave
Gossip Girl fans will recognize this bar as the site of Serena and Nate's hot hook-up. The clientele tends to be an after-work crowd though, so don't expect a show.
If you do want a show though, try Bathtub Gin. On Tuesdays and Sundays they've got Burlesque. The ladies are beautiful, talented, and rather naked — so you can expect some good, not so clean fun for boys and girls.
This is where you go if you've spent all your money on trying to look like a celebrity and now you can't even afford a drink. On the bright side, there's free champagne in the girls' bathroom.