If you wish to explore one of New York City's borough, Staten Island, you're lucky! This is because the Staten Island Ferry is free for folks who wish to do so. During the summer, free ferries also attract tourist to Governor's Island, which is home to certain event like the Jaz Age Lawn Party. These ferries also give you the chance to view the city from a different angle, and are definitely cheaper than the fine boat yacht tours with gross food.
NYC Subway
Unless you travel by the New York Subway, who will not have experienced NYC like a New Yorker. Apps will help you get the basics down, namely Citymapper, but part of the fun experience is getting on the wrong train or simply getting lost. The 1,2,3 and 4,5,6 trains will take you most places that you need to be, while the L train or the 7 train will help getting you connected from the west side to the east side. If possible, make sure to stay away from the J and G trains, due to the fact that they are super slow and it will take you forever to get anywhere.
Magic numbers for metro card
When using the New York subway, one little trick that locals use are that one ride on the New York subway costs $2.75, but adding $20 to a Metro card will actually result in a few extra dollars and cents too short of one last ride. So the solution is to put $11.90, or $30.95 and you will be ensured that you will never lose cash or unused rides when you get to use the metro card again.
Walking / Biking bridges and elevated walkways
Locals know how to travel on foot to enjoy NYC. The Highline, which runs from West 34th Street down to Gansevoort Street, is definitely the coolest combination of both urban and ecological planning in NYC to date. The Brooklyn Bridge is pretty ideal and it offers not only the perfect place for a memorable photo, but it takes tourists from Downtown Manhattan straight into the business district of Downtown Brooklyn.
The famous NYC Yellow Taxi (or as New Yorkers call them Cabs)
The famous Yellow Cabs are all over New York City. They are so traditional, that they have quite a number of famous songs and movies which are centred round them. The famous Scorcese/De Niro movie "Taxi Driver" and Joni Mitchell's "Big Yellow Taxi". As the yellow cabs have joined the 21st century, Arro was introduced as a way of competing with other rideshare companies. Going around the city via taxi can be fun, quick, and also comfortable. But make sure to avoid peak times ( like morning and evening rush hours) if you don't want to pay the driver for sitting in traffic. Prices normally start at $2.50 one you tell the driver where you want to go, but they tend to vary a lot!
Citibikes
Citibikes are normally discouraged for tourists to use them; even the most professional of cyclist will come by some trouble whilst navigating the bike lanes and whimsical traffic of the city, not mentioning the countless accidents which have occurred throughout the years. If you are feeling up for it, bring a helmet, make sure that you are aware of the rules and regulations and keep your wallet well-stocked as prices start at $10 a day.​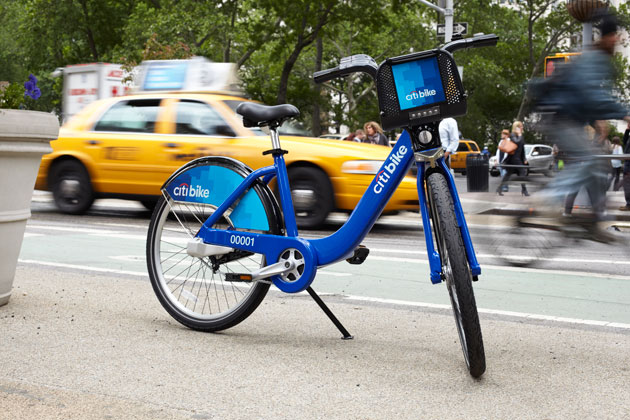 Bus tour
This is the least "see New York like a New Yorker" thing to do. Taking a ride on top of a double-decker bus, and cruising down the avenues while listening to a NYC expert rattle off fun trivia, is definitely not the worst way to spend your time when visiting New York City. Taking a bus tour is one of the best ways to check NYC all out in a short amount of time. Two of the best are City Sights and Big Bus Tours.
Bus tours are not expensive and they will give tourist an idea of the whole city. If you are going to New York for the first time, the bust tours are an ideal way to learn fun facts about New York City.